Gerber Powerblend Cereal for Baby Probiotic Oatmeal Lentil Carrots & Peas 2nd Foods 8 oz (227 g)
Product Highlights
Nutrition Facts: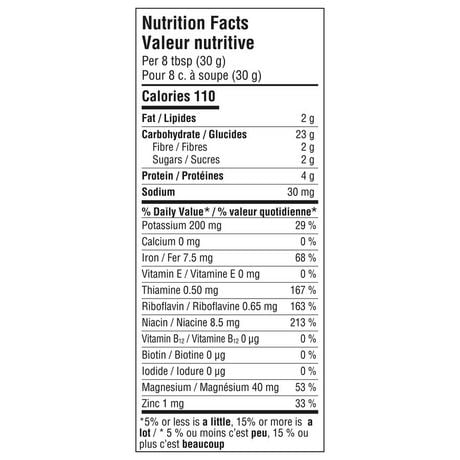 Ingredients
5 in stock
Free 2-Day Shipping & Free Returns
Gerber Powerblend Cereal for Baby Probiotic Oatmeal Lentil Carrots & Peas 2nd Foods 8 oz (227 g)
Description
Ingredients:
Whole Grain Oat Flour‡, Red Lentil Flour‡, Carrot Flakes (Carrot‡, Corn Starch†, Maltodextrin†, Sunflower Lecithin‡), Apple Crunchies (Apple†, Corn Starch†), Bifidobacterium Lactis‡, Dipotassium Phosphate‡, Amylase†, Glucoamylase†.
Vitamins and Iron: Thiamine Mononitrate‡, Riboflavin†, Niacinamide‡, Electrolytic Iron‡. †From non-genetically engineered (GE) sources. ‡As always, only available from non-GE sources.
At Walmart Canada, we always strive to make sure the information about the products we sell is always as accurate as possible.
However, because products are regularly improved, the product information, ingredients, nutritional guides and dietary or allergy advice may occasionally change.
As a result, we recommend that you always read the label carefully before using or consuming any products.
Please do not solely rely on the information provided on this website.
Walmart Canada does not accept any liability for any inaccuracies or incorrect information contained on this website.
See Term of Use for more details. For up to date information on products, please speak to the manufacturer.
GERBER POWERBLEND Baby Cereal Apple Carrot Lentil & Oat (208 g) is an excellent source of essential nutrients for littles ones 8 months and older that nourishes baby's growth and development.
Feel good knowing each serving contains an excellent source of iron for normal cognitive development, 2 tbsp of veggies, and probiotics* to support a healthy gut flora.
The 1st baby cereal with lentils, this baby cereal is also made with real apple, carrots and oats, with no added sugar, salt** or preservatives, artificial colours and flavours, and is non-GMO***. A great way to introduce new flavours and textures to baby, simply stir in lukewarm breast milk or infant formula to create a smooth consistency for quick, super convenient, and wholesome goodness.
Tags: 2nd Foods, 2nd Foods 8 oz (227 g), 8 oz (227 g), Baby, Carrots, Cereal, For, Gerber, Gerber Powerblend Cereal for Baby, Gerber Powerblend Cereal for Baby Probiotic Oatmeal Lentil Carrots & Peas 2nd Foods 8 oz (227 g), Lentil, Oatmeal, Peas, Powerblend, Probiotic, Probiotic Oatmeal Lentil Carrots & Peas